What is VITRUVE?
VITRUVE is a device used to measure the lifting velocity, and it comes together with an app for both Android* and Apple, for the planning of load training. It has a global reach and a community of athletes and coaches who support us every day.
* We have temporarily paused updates on Android. We apologize for the inconvenience.
What happened with the Speed4Lifts encoder?
Speed4Lifts has updated to VITRUVE with improved features such as Bluetooth connection, a longer-lasting battery, etc.
Speed4Lifts owners can still use the encoder: iOS users will be able to continue using the Speed4Lifts encoder with the VITRUVE app offline. Android users can still use the Speed4Lifts encoder and the Speed4Lift app.
* We have temporarily paused updates on Android. We apologize for the inconvenience.
Recommendations
Recommendations for use:
Before the use of this device, the user should read the instruction manual, especially the precautions section. This document must be kept for future reference.
To reduce the risk of fire or electric shock, do not expose the device to rain or moisture. The appliance should not be exposed to dripping or splashing, and objects with liquids, such as vases, should not be placed on the device.
Use only accessories specified by the manufacturer (such as the exclusive power adapter, etc.).
Do not plug any accessory that is not from our brand.
Do not insert body parts or objects inside the connection ports or the box.
Connection recommendations:
Connect the equipment according to the instructions in the manual.
Connect the equipment with the correct mains voltage as shown on the equipment.
Protect the power supply cable from footsteps or scrapes, especially near plugs, connections to other devices and points of exit from the device.
Warranty:
The guarantee is 2 years. The warranty covers any failure that has to do with a manufacturing defect. It does not cover breaks due to falling, water, or customer misuse.
Technical support:
If you have any questions and / or problems write to [email protected] telling us what has happened and attaching as many photos and/or videos of the product status. Please, indicate if you're using Android* or iOS for better support.
Problem-solving:
In case of any failure, if something is missing from the package or if you have any other problem, write to [email protected]. At VITRUVE we test all the devices before sending them. But if it has arrived with any defects, write to us and send us photos and videos of the product status, and we will solve your problem as soon as possible.
To consider:
The WEEE (Waste Electrical and Electronic Equipment) is applied in the Member States of the European Union and the other European countries with individual national policies for waste management of electrical and electronic equipment. If you need more information about the collection, reuse and recycling systems, contact your local or regional waste management center.
Electrical products should not be thrown away together with domestic waste, they should be taken to a community ecological point of collection of this type of materials. Contact the local authorities or your vendor for advice on recycling. The packaging material is recyclable. Dispose of the packaging in an environmentally friendly way so that the collection service can easily access the recyclable material.
* We have temporarily paused updates for Android. We apologize for the inconvenience.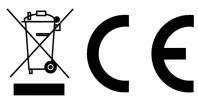 Box contents:
It includes:
VITRUVE linear encoder
Protective neoprene cover.
Velcro hook
Micro-B USB cable
The USB cable can only be connected via USB to chargers with CE marking. Only the provided cable should be used.
Who are we?
VITRUVE was born out of the concern of two Spanish engineers, lovers of strength sports such as powerlifting, whose main goal is to cover the current needs in the world of strength training by presenting a unique and practical product capable of meeting and exceeding the expectations of other tools used by professionals in the sector.
What is a linear encoder?
A linear encoder is composed of an optical encoder capable of measuring angular movements and a coil that allows them to linearize. This way, any linear movement can be measured.
For whom it is?
For every athlete and coach that are tired of erroneous methodologies and non-updated for the measurement of their training. For every athlete and coach open to using cutting-edge technology to start programming reliably based on the most important variable in strength training: THE EXECUTION VELOCITY.
How does it work?
Our encoder is a comfortable and simple device that gets attached to the bar. There's a totally free app that allows you to view and save data intuitively and efficiently.
What athletes need VITRUVE?
All those athletes with the need to quantify the accumulated fatigue, estimate their 1RM and know the velocity of execution to carry out a reasoned and efficient programming based on the last lines of scientific research.
I'm a personal training, is VITRUVE of any use for me?
For every athlete and coach that is tired of erroneous and current methodologies for the measurement of your training. For every athlete and coach open to using cutting edge technology to start programming reliably based on the variable important in strength training: THE EXECUTION VELOCITY.
Offering exclusive training to your clients is fundamental. VITRUVE is the best way to integrate personalization and technology for training professionals as physical trainers either with an orientation to high performance or prevention of injuries.
You can read here the opinion from Sam Portland, an experienced coach about velocity based training devices
Is there any platform to keep a record of the measurements of my workouts?
We have a totally free mobile application for both iOS and Android*.
* We have temporarily paused updates on Android. We apologize for the inconvenience.
What exercises can I measure?
You can make measurements all kinds of exercises, from basics and weightlifting to your own bodyweight workouts… There's also an option (TEST) where you record any type of movement.
How do I link the encoder with the app?
You can either connect it via Bluetooth or via Wifi. It is set on Bluetooth by default.
Bluetooth
Make sure you have the Bluetooth activated on your device.
Turn on the encoder and open up the app.
The available encoders will automatically show up.
Click on yours ("Vitruve_XXX") and it will pair.
To automatically pair your encoder every time you log in, select "Connect automatically" and then select your encoder
WiFi
Make sure you have the WiFi activated on your device
Turn on the encoder and hold the left button for 5 seconds*
Go to Settings on your device and look for the network "Vitruve_XXX"
Type the password 123456789
*To change back to Bluetooth, press the left button for 5 seconds.
Are there any scientific studies to ensure their validity?
VITRUVE was compared with the main gold standard, the T-FORCE encoder. The results showed reliability and spectacular validity.
It is of special interest to highlight the precision and reliability of VITRUVE since the maximum error is 0.46mm in the measurements and 0.0026 between the force-velocity curves.
What sports benefit from velocity-based training?
All sports have strength requirements to a greater or lesser extent. From a marathoner to a powerlifter, everyone must train strength. In the last years, velocity-base training (which measures the velocity of execution) has proven to be the most updated, efficient and correct training system for the load programming and determination of fatigue.
Does VITRUVE use kilograms or pounds?
Both. You can choose either one in the Settings section of the app.
When I receive my encoder, what will I find in the packaging?
Inside the shipping package you can find:
Encoder VITRUVE
USB wire
Neoprene protective bag
Velcro strap
Sticker "VITRUVE"
Can I connect my tablet to the encoder?
Yes, download the app and link the encoder via Wi-Fi or Bluetooth.
What type of device do I need to use the platform?
You need a smartphone (Android* from Jelly Bean 4.1.0 and iOS from 10.4) or a tablet with similar features.
* We have temporarily paused updates on Android. We apologize for the inconvenience.
Is the app for free? Where can I download it?
Yes, the app is totally free. You can download the Vitruve app from the App Store (iOS) or the Speed4Lifts app on Google Play (Android*)
* We have temporarily paused updates on Android. We apologize for the inconvenience.


Can I export my data?
Yes, you can download your training in .csv. Go to "Progress" and click on the training you wish to export.
Unfortunately, this feature is only available for iOS.
Can I connect to my VITRUVE from different devices?
Yes, you can connect the encoder in any smartphone or tablet.
How do I turn on and off my encoder?
You can find an on/off button at the top of the encoder. On the led screen you can check the status of the device as well as the status of the battery.
My first training with VITRUVE
Follow some quick steps to make sure you are ready to do your first training with your VITRUVE:
Make sure you have the application on your smartphone ready (for more information, check what devices are compatible)
Create a user and a password. Place your encoder, turn it on and connect to your device via Wi-Fi
Adjust the app and prepare to lift! Attach the encoder to the bar, select your workout and press "START". Focus your attention to perform every repetition at the maximum possible velocity. From now on, you will be a different athlete. Take a different path that surely will bring you the most optimal and effective way to your goals
We hope you enjoy your first training with VITRUVE! Thank you for being part of this family!