Optimize your athletes' training with the most accurate encoder in the market.
If you're still wondering how Vitruve and Velocity-Based Training can help your team, we have developed the right app just for you!
Leave a message in the contact form to know more.
You can also call us +1 (866) 556-9473 or contact us at contact@vitruve.fit and we will answer shortly.
Transform your coaching experience
Create your coach profile and  start adding teams and athletes to your account. With the Multi-Athlete feature you'll add all your athletes at once! Just as easy as importing a TSV file, it won't take more than 10 minutes to have all your athletes ready to go!
Achieve maximum impact by training with optimal loads for each athlete. Give them the personalized coaching experience they crave.
Count with a leaderboard to make training more motivating and fun. Put together a close and united squad, with players capable of transcending their talents to meet their objectives. Enhance healthy competition and progress more than ever!
Linear encoder
Accelerometers might have become more popular, but a linear encoder is the most precise technology to monitor velocity nowadays. Estimate your 1 RM, quantify fatigue correctly and organize your training loads more accurately.
Sports cutting-edge technology is a must-have these days. It makes training more efficient, taking less time and better measurement. No more data collection on paper.
And.. it's portable!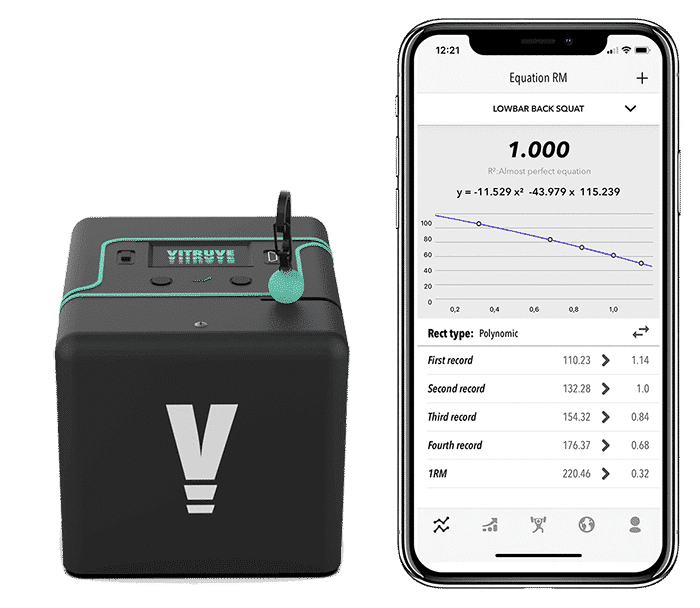 Welcome to precision
Have you ever wondered why your athletes don't progress the same when performing the same exercises?
Ask anywhere, Vitruve is the ultimate encoder in the market, with the highest precision and accuracy levels. Portable, wireless and now with Bluetooth connection!
1RM calculation
Performance record
Fatigue control
Injury prevention
Data export
CALLING ALL COACHES OUT THERE
Do you coach a team? Are you looking for a VBT device to add to your routines? Contact us now!
Velocity-Based Training
The movement velocity of a lift has proven to be a fundamental variable to know the current intensity of the lift. If we could measure this speed with immediate information, this would be the best reference to find out if the weigth is adequate or not.
This is what Velocity-Based Training is all about. And Vitruve can provide the real-time feedback your athletes need to progress correctly.
Check out these independent studies that certified Vitruve (former Speed4Lifts) as the most accurate and reliable VBT device.
Professional metrics
You can't improve what you can't measure
Data & metrics Old days when we use to write down 1RM estimations are gone. There's a better way to calculate and control your athletes' progress to achieve optimal results!
Leaderboard Competition represents a project. A project to grow and improve oneself. This leaderboard will push your athletes further for success!
"Vitruve has changed the way we approach athlete development at KineticPro. It's elevated the environment and become a staple in our programming daily." – Cassey Mulholland (Kinetic Pro Performance)
"I have used a decent amount of VBT Systems and my favorite is Vitruve!  It gives our athletes instant feedback, makes our weight room a more competitive environment, and maximizes appropriate velocities while increasing our power output during training." – Zachary Fears (Director of Sports Performance-Southeastern Oklahoma State University)
Manage all your athletes at once
We know you don't have time to waste switching from one account to another. With the multi-athlete feature, you will easily manage all your team in the same training!
What you'll be doing with the rest of your time is just up to you!
Trusted by colleges, universities and countless coaches to bring up the most out of their teams.
Download the template to bulk import your athletes here!
Train HARD, but train SMART
Want to know more about Velocity-Based Training? Discover how to use it, variables you need to measure, and applications of strength training based on movement velocity.
Download our complete and fundamental guide of VBT
THE FUTURE IS HERE.
THE FUTURE IS VITRUVE.
FONDO EUROPEO DE DESARROLLO REGIONAL
UNA MANERA DE HACER EUROPA
Este proyecto en el marco del Programa ICEX Next, ha contado con el apoyo de ICEX y con la cofinanciación del fondo europeo FEDER. La finalidad de este apoyo es contribuir al desarrollo internacional de la empresa y de su entorno